Turkey Hunting 101


Learn how to hunt turkey by completing the official NWTF Turkey Hunting 101 Online Course.
Why Choose this Course?
Learn from Real Hunting Professionals
This course was developed by the National Wild Turkey Federation (NWTF) and is powered by the leading provider of online hunter safety courses for state agencies and consumers in North America. In this course, you will receive the most comprehensive turkey hunting instruction available anywhere!
Easy Learning System
Videos and photos are included throughout the course to make information easy to learn and retain.
The Fastest, Easiest Way to Learn How to Turkey Hunt
Easy, self-paced learning wherever you want it. The lessons are engaging, and the course saves your progress wherever you leave off.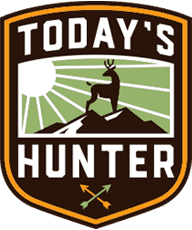 NWTF-Developed and Approved
This turkey hunting course was developed to meet the NWTF standards for safe and ethical hunting practices. Since 1973, NWTF has worked to promote sustainable, high-quality turkey populations, wildlife habitats, and ethical hunting experiences by standing behind science-based conservation and hunter's rights. NWTF is pleased to join Today's Hunter in being your guide into successful turkey hunting, and we know you're going to find the experience enjoyable and rewarding.

You already have your own motivations for becoming a turkey hunter and some sense of the rewards ahead. The NWTF Turkey Hunting 101 Course was developed by expert hunting educators to help you take the next step in your journey: into the woods on an actual turkey hunt.
Whether or not you've been turkey hunting before, our aim with this course is to show you the way, answer any questions you may have, and help you find success in the field.
---
Learn How to Hunt Turkey Successfully

Where to Hunt Turkey
One of the more challenging parts of becoming a turkey hunter is finding a good place to hunt. In this course, you'll learn how to scout, how to identify feeding and roosting areas, and more. Through this course you'll acquire the knowledge you need to change your approach when turkeys throw you a curveball.

Where to Shoot a Turkey
Your ultimate goal as a hunter is to make ethical shots. This course will teach you about the difference between lethal and non-lethal shots, the obstacles you may encounter when trying to find a clear shooting lane, and the tips and tricks you'll need to make a smooth shot.
Turkey Hunting Tips and Strategies
The majority of hunters start out when they're young and learn from a friend or family member, but many successful hunters take up hunting later in life, often through exposure to firearms training or an increased interest in the outdoors.
For the novice turkey hunter, the learning curve in the beginning can be steep. We developed our turkey hunting course with you in mind. We will catch you up to speed on all the turkey hunting tips and tricks you'll need to know to be successful in the field.
Here's a sample of some of the tips and tricks covered in full detail in the course:
Identifying turkey subspecies
Identifying sex and age of wild turkeys
Understanding wild turkey behavior
Essential gear for turkey hunting
Where to hunt wild turkey
When and how to use turkey calls
How to scout and study turkey tracks
How and where to set up decoys for turkey hunting
When, where, and how to shoot a wild turkey
How to score a gobbler
Cleaning your wild turkey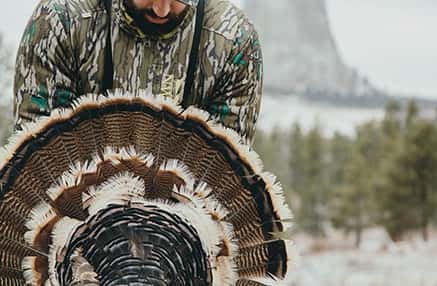 Understanding Turkey Calls
To pattern effectively, it is important to understand turkey behavior, family dynamics and language. The wild turkey has over 20 distinct vocalizations. This course will teach you the difference between the box call, yelp, the kee kee run, the cluck, and many others. Each call is important to learn, and we'll give you tips to perfect them. Identifying these sounds will help you call and identify the turkey in your crosshairs.
---
The Best Shotgun for Turkey Hunting
Choosing a turkey hunting shotgun is as personal to you as finding a good-fitting pair of shoes or boots: one size does not fit all. In fact, firearms have individual traits that make them better or worse for specific situations. In this course, we will cover everything you need to know about choosing the best shotgun for turkey hunting, where to purchase your firearm, and how to properly clean and maintain your shotgun.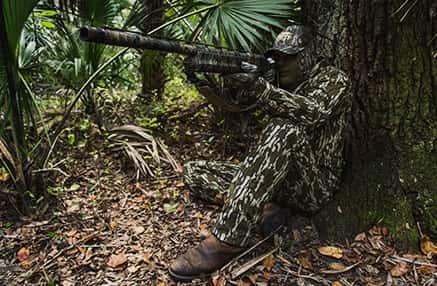 Course Features
Videos
Our turkey hunting course videos feature a combination of professional instructors, entertaining storylines, and up-to-date scenarios that give you one of the most effective ways to learn safe turkey hunting practices.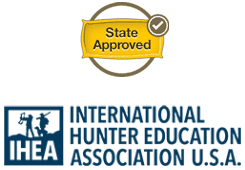 Comprehensive Turkey Hunting Training
The creators of this turkey hunter course work with International Hunter Education Association-USA (IHEA-USA), more than 45 state agencies responsible for hunter safety courses that teach students important laws and regulations, game identification, and safe responsible firearm handling. You can be confident that you are receiving the most comprehensive turkey hunting education available online.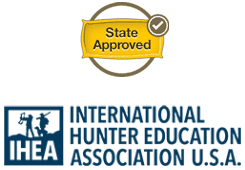 Learn Your Way on Any Device
Today's Hunter offers online courses that are fully mobile-friendly from start to finish. This safety course is designed to work on your smartphone, tablet, laptop, or desktop computer.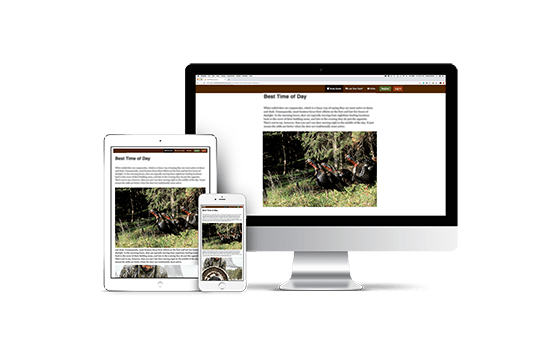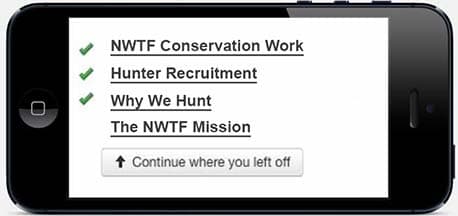 Saved Progress
You may complete the course at your own pace. The course can be completed in one sitting or a little at a time over several days. Log in and out at any time, and we'll keep track of your progress. Most students finish the course in a few hours.